The Town of Needham will be voting on the fate of Rosemary Pool/Lake this
Wednesday April 30th, 2014
Send an Email to influence the outcome of this decision!
Read the comparison of the final two options below and email your choice to
Patricia Carey, Director of Park & Rec at PCarey@needhamma.gov
Rosemary Pool Update

New Information Regarding Pool Options
Wednesday is the Final Vote for Rosemary Pool !

The Needham Parks & Recreation (P&R) Commission will be voting this Wednesday, April 30th, on the Rosemary Pool Project. They have narrowed the options down to two possible frameworks: Option 3b and 4a.
P&R recently circulated updated information for the Pool Study, which adjusted the cost estimates for Option 4a making these options much closer in cost than originally thought; a difference of less than $890 thousand.1
See the chart below for an "apples-to-apples" comparison of key points from this most recent information.
CCN encourages you to review the data2 and share your input with the Park & Rec Commissioners. Please email for thoughts to Patricia Carey, Director of Park & Rec at PCarey@needhamma.gov, and CC us on your email info@communitycenterofneedham.org

Comparison of Remaining Two Options (3b verus 4a)
Option 3b
Option 4a
Description
Rebuild new pool within existing footprint inside the lake
Move pool out of lake, 2-4 feet above lake level onto solid ground.
Restore some natural bank to lake.
Pool Size
19,700 sf
19,000 sf
Cost to build
$6,919,728
$7,808,624
Cost with expanded parking *
$8,300,000
$9,188,896
Cost with terraced parking *
$9,261,104
$10,150,000
Time-line
9-12 month
18 month
* The designs include two parking lot scenarios either of which can be applied to option 3b or 4a (which one will be decided in the design phase). To create an apples-to-apples comparison, the cost of both parking scenarios have been applied to the base cost of each option resulting in a cost differences of less than $890,000 between option 3b and 4a.
Common elements of both options include:
A decrease in the size of the pool from the current pool to a slightly smaller size
Update building: bathhouse moved to lower level and upper floor renovated for year-round use
Programming would be maintained or increased
Addition of a separate filtration building so that the first floor of the bathhouse could be used for bathrooms
Place holder for future indoor pool
Operating and maintenance costs are reduced for both options from the current cost of $180,000 to $160,000 per year
Differences include:
Option 3b rebuild the pool in the lake using the existing footprint
Option 4a move the pool out of the lake and build it on land
Option 4a includes a slightly smaller pool
Option 4a includes expanded pool deck and restoring some natural bank of the lake
Option 3b is estimated to take 9-12 months in construction whereas Option 4a is estimated to take 18 months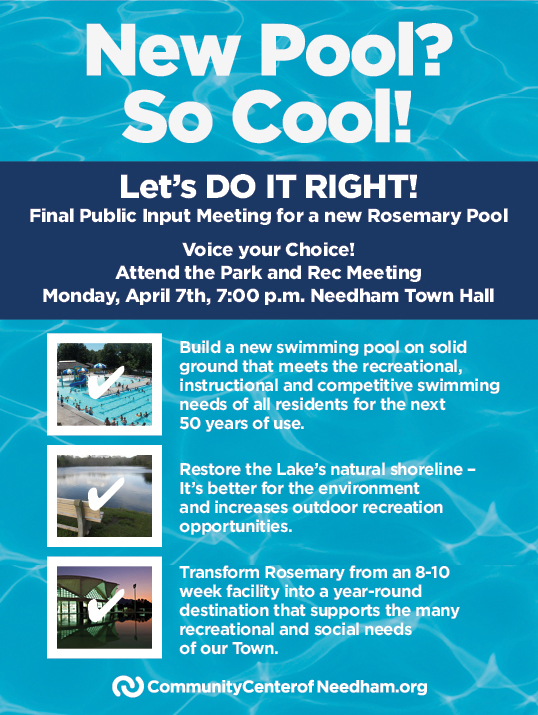 ---
Feasibility Study Results Presented
Thank you to everyone who attended the Park & Rec meeting at Powers Hall on December 9th. The four options discussed at the meeting were:
Decommission Pool
Minor Renovation
Major Renovation
Full Replacement
Many residents spoke up to express their dreams for Rosemary including Ken Keyes; "Why would Needham shortchange itself and go for anything less than an option that will serve us for the next 40 to 50 years, just as the current Rosemary Pool has served us for the past several decades? Anything less would be shortsighted."
The feasibility study Final Report by Weston & Sampson can be found at:
http://www.needhamma.gov/index.aspx?nid=3604
---
Be Informed, Ask Questions. Casual Gathering Planned:
The feasibility study is complete. Four options were presented. There are still many questions to be answered. The Park and Recreation Commission is leading the discussion and will be deciding on next steps for this project over the next couple of months. All of their meetings are open to the public and are held on the 2nd and 4th Mondays of the month. Please consider attending these meetings to voice your opinion. For more information go to the Park and Recreation website, most meetings are held at 7 pm @ 500 Dedham Ave., the PSAB building.
Now is the time to get involved and stay informed.
Please join CCN for one of our casual, drop-in information get-togethers to ask questions and voice your opinions.
Coffee Open House. Monday, April 14 at 9:30 a.m.

    Home of Katy Dirks 
    674 Webster Street
	Needham
	(Children welcome)

Evening Dessert Open House. Thursday, April 10 at 8:00 p.m.

    Home of Nancy Sterling
    780 Webster Street 
 
---
Survey Results Are In!
During the last four months of 2013, the Community Center of Needham (CCN) surveyed its supporters and interested residents about their pool and lake use. Consisting of 23 questions, the document asked respondents about everything from general pool and lake usage to specific aspects of Rosemary pool. Individuals, parents, athletes, community leaders, seniors and young people were among the 657 respondents.
Highlights include:
97% of respondents believe that Needham should offer outdoor swimming
81% think Needham should offer year-round swimming
54% rated Rosemary's cleanliness as "poor" or "very poor"
97% rated the central location of Rosemary as "good" or "excellent"
---

For three years CCN has been working to raise interest in improving community recreational facilities in Needham.
Our three priorities reflect the needs expressed to us by you, our fellow residents, Town leaders, civic and business partners: (1) create a year-round swimming facility, (2) create a safe gathering place for youth, (3) increase community-wide recreational opportunities.

So now, where to start? Rosemary Pool is 30 years beyond its intended lifespan and attached to a lake, making it difficult to maintain. This leaves Needham residents, young, old and in between looking for other options that are better suited to meet their needs.
In 2001, Needham allocated money to study the feasibility of a new pool at the site, but only now when the community has shown a strong interest, is this study taking place. With the alignment of these events, CCN has made a new pool its top priority.
Please join our 'Pool First' campaign by signing our petition and "liking" our facebook page.
Let's shout it out … Needham is ready for a new pool!
---
Residents Fill Town Hall to Discuss Pool Options
It was standing room only as residents turned out last night at the Park and Rec Commission's "Blue Sky" meeting to discuss the future of Rosemary Pool. Residents of all ages lined up to share their memories of Rosemary and give their visions of what a future site could be. Commissioners sat patiently while person after person went up to the microphone and spoke about all aspects of Rosemary Pool and Lake. One thing was clear--Needhamites have a passion for swimming at many levels. What they do not have, and desperately need, is appropriate facilities to accommodate the requirements of all the groups who spoke out last night. They include master swimmers, competitive swimmers, divers, scuba divers and recreational swimmers. People spoke out who want an indoor pool, an outdoor pool, or both-including a pool with a retractable bubble roof. Some wanted a pool in a lake, a pool separate from the lake or the lake alone. Still others were focused on the area surrounding the pool and lake and what it could become. What most speakers agreed upon is that Needham has a great asset in Rosemary and there is room for improvement.
There was energy in the room surrounding fundraising, a public-private partnership and community collaboration. One person joked that the commissioners' jobs had been made easier since one of the four options had been eliminated--the one to decommission the pool and not offer a public swimming facility to residents is clearly no longer viable.
The commissioners indicated that they would take the enormous volume of comments from the evening, categorize them and share them with everyone in a public format.
While we await that, the Community Center of Needham would like to thank all of our supporters who attended the meeting tonight. The turnout was fantastic and the meeting was a significant step on the road to CCN's first priority-a new pool!
Our Vision for a New Pool

A year-round swimming facility that is accessible and affordable to all residents
A pool that will encourage residents to "Swim Needham" and offer an alternative to the expensive private pool memberships offered in neighboring towns
A facility suitable for our school and town's swim teams so they do not have to practice and compete out of town
A facility where residents of all ages can learn to swim and enjoy recreational and refreshing water fun
A year-round gathering place for members of our community

It's time to create new Swimming facilities in Town

..given a set of potential problems with the facility, the pool's long-term future is uncertain.

Read more...

Letter Responses